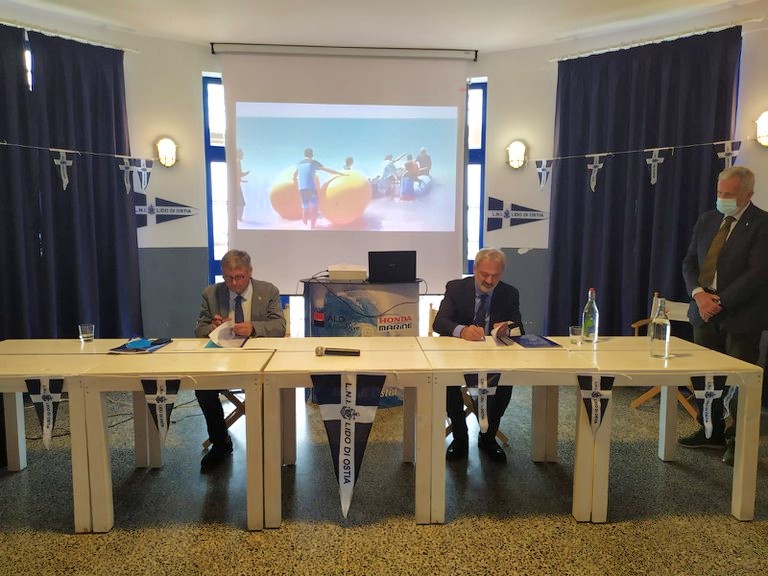 On Thursday 24 June, at 12 noon at the section of the Lega Navale Italiana (Italian Naval League) in Ostia, the President of the LNI, Admiral Donato Marzano, and the Director of ISPRA, Dr. Alessandro Bratti, have signed an agreement for the achievement of common objectives aimed at greater knowledge and protection of marine environments.
The agreement, in particular, involves the 50,000 members of the Naval League and the nautical vehicles supplied to the sections and members in a campaign to collect information and monitor the marine habitat, starting with Posidonia oceanica and the presence of floating marine litter. .
Life SEPOSSO in this context, participates by sharing the experience gained in 3 years of the Life project, and will be an active part in the phase of defining the data collection methods regarding the Posidonia oceanica habitat, in the training the personnel involved in the activities of data collection and in the data control. Many of the training and environmental education activities developed in Life SEPOSSO will be transferred within the activities envisaged by the agreement, aimed at both adults and children.
The participation of yachtsmen in the data collection and analysis process according to specific protocols developed by ISPRA researchers, is part of the processes of Citizen science, with the dual purpose of increasing their knowledge, skills and specific abilities. These steps  are necessary to be able to consciously carry out the monitoring functions and to make the wealth of data and information collected along the coasts available to ISPRA researchers.