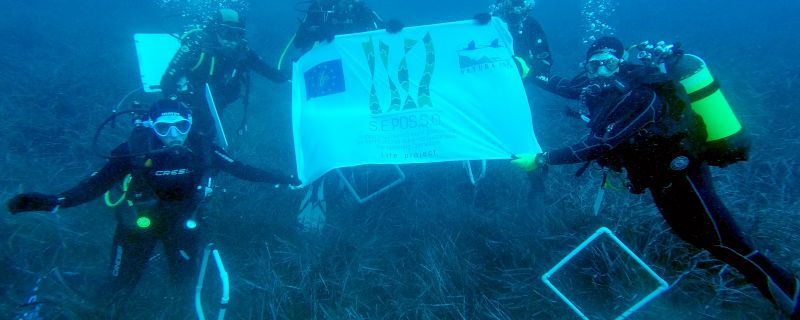 As part of the events planned for networking between projects (Action D.2) and for performance data collection on Posidonia oceanica transplants (Action B.2), on 30 and 31 October 2019 in the Marine Protected Area of ​​Capo Carbonara (Villasimius (CA) a series of activities were carried out between Life SEPOSSO and Life RES MARIS.
In particular, the underwater scientific operators of the Life SEPOSSO partnership (ISPRA, ARPAT, UNIROMA), together with the divers of the Capo Carbonara for Life RES MARIS, carried out a joint monitoring to assess the status of Posidonia oceanica transplantation as environmental restoration intervention during the work of Life RES MARIS. The transplant, already performed between autumn 2016 and spring 2017, and jointly monitored by the two projects in May 2018, appears without obvious losses in the transplanted cuttings. The data obtained from the monitoring will be evaluated within the activities of SEPOSSO, and will contribute to broaden the case history of the different types of transplant analyzed during the project.
Thanks to the collaboration established between the two Life projects and the Capo Carbonara AMP, the modalities for the test phase of the web platform (Posidonia Web Platform, PWP) have also been agreed, which is being implemented within the framework of SEPOSSO and which will support in managing the governance of works with possible impacts on the Posidonia habitat (Action B.3)
Furthermore, in collaboration with the staff of the AMP Capo Carbonara and the RES MARIS project, on 31 October a meeting was held with two classes from the primary school of the Comprehensive Institute of Villasimius, in via Botticelli. We explained to the children the importance of Posidonia oceanica meadows with the support of short educational videos, and a small Marine Biology laboratory was set up that allowed the boys to observe the plants. Through the story of an adventure of the mascots Posi and Donia, narrated in the comic "Discovering the Posidonia oceanica meadows", we discovered together the hidden world that populates this ecosystem. The day ended with games designed to communicate the knowledge and respect the wonders of the sea while having fun, and with the distribution of gadgets for children (comic book by Posi and Donia).
​