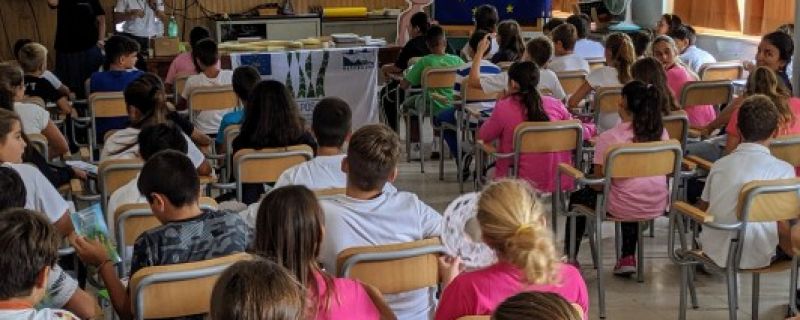 The activities for the environmental education and dissemination are continuing in the study site for Life SEPOSSO (Action D.1). In Ischia (NA), on Wednesday September 25th ISPRA researchers and MPA "Regno di Nettuno" experts have met about 100 students of the primary school "Giovanni Scotti".
For the second consecutive year, after the 2018 meeting, the researchers encountered new classes and explained the importance of Posidonia oceanica meadows, with the support of short educational videos. The setting up of a small Marine Biology laboratory has allowed the children to observe the plant and the organisms that live there among the leaves.
By the story of an adventure of Posi and Donia mascots, narrated in the comic book "Discovering the Posidonia oceanica praires", we discovered together the hidden world that populates this ecosystem.
The day ended with a group games with the distribution of gadgets for boys (frisbees in biodegradable material to color, comic of by Posi and Donia and information material).
Thanks to the participation of the MPA "Regno di Nettuno" we had the chance to communicate to the future citizens the importance of the habitat and the need to protect it, also using the good practices illustrated in the brochures produced by the AMP Regno di Nettuno. The occasion was also a optimal occasion to exchange didactic experiences and teaching materials between SEPOSSO project and MPA "Regno di Nettuno" (action D.2).