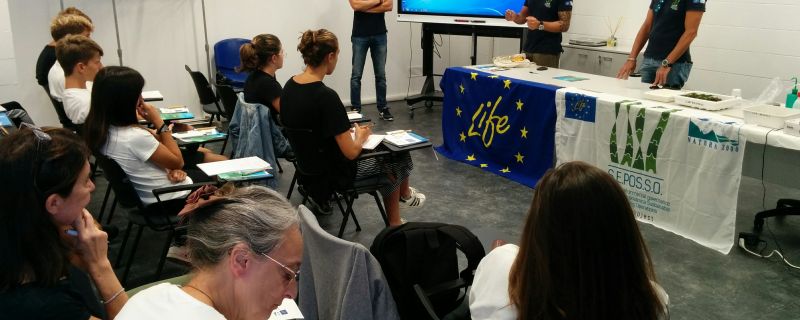 As part of the training course provided by the school-to-work orientation program, organized by the Port System Authority of the Northern Tyrrhenian Sea (AdSPMTS) of Piombino, on 5 September 2019, a second meeting was organized with the students of the State Institute of Education Superiore "Carducci-Volta-Pacinotti", in which some of the activities conducted within the Life SEPOSSO project were presented.
The subject of the interventions concerned the description of the activities and the professionals involved in the realization of the various activities (planning, communication, dissemination, biological analysis, data analysis, underwater activities, etc.) necessary for the realization of a governance project, like Life SEPOSSO.
The contributions of the speakers Barbara La Porta (ISPRA), Tiziano Bacci (ISPRA), Vincenzo Raimondi (ASD Jacques Cousteau) and with the coordination of Francesco Sozzi and Claudia Bulleri (AdSPMTS Piombino), the students of the Institute were able to learn about the training that lead to the professional qualifications obtained by the various operators and how the various skills have met the needs envisaged by the various actions in a complex project such as the Life program.
The monitoring activities on Posidonia oceanica conducted as part of the Life SEPOSSO project have been described, and through a small biological laboratory prepared for the meeting, the basic concepts of biological monitoring conducted on the characteristics of the meadow, on the plants or on the epiphytic community associated with the leaves, have been illustrated.
During the training activities, the importance of integrating different skills to obtain the expected results (i.e. providing management tools aimed at improving the governance of P. oceanica transplants, in particular when used as a compensation measure in scope of VIA requirements in marine-coastal works) was emphasized.
The meeting represented a further opportunity to inform and to create awareness in the future citizens and in the next generation of operators to adopt protective measures to preserve Posidonia oceanica, recognized at European and national level as a priority resource to be protected and protected.