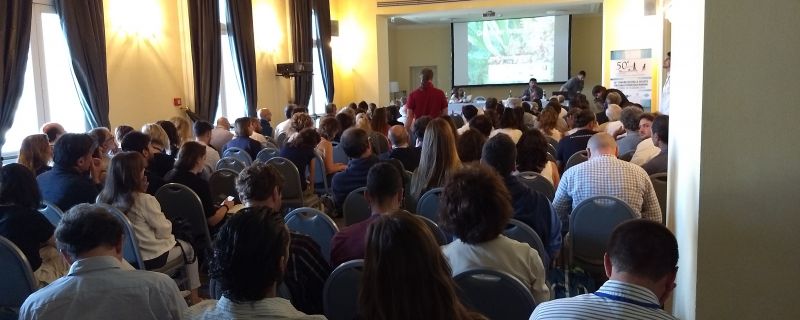 The LIFE SEPOSSO project was a guest of the 50th Congress of the Italian Society of Marine Biology (SIBM) held in Livorno from 10 to 14 June 2019, at the Grand Hotel Palazzo – Viale Italia, 195.
On Tuesday 11 June, as part of Theme 2 "Enhancement, conservation and management of marine environments", chaired by M. Chiantore and A. Terlizzi, the preliminary results of the monitoring of the transplantations of Santa Marinella, Ischia and Priolo-Gargallo, carried out in the spring-summer of 2018, were presented with an oral communication entitled "Il Life SEPOSSO monitora i trapianti di Posidonia oceanica (L.) Delile in Italia ".
The communication was the occasion to present to the Italian scientific community of marine biology the approach used to evaluate the outcome of Posidonia transplants, which have always clearly divided scientific opinion on their real effectiveness.
Furthermore, as part of the Communication and Dissemination Group Meeting, Thursday 13 June from 09:00 to 10:30 (Marconi Room), were presented the communication plan and the experiences made to date by the SEPOSSO project. We discussed the communication strategy used within the project to transfer to citizens and stakeholders some key messages, with the aim of increasing awareness about the importance and the needing of protection of Posidonia oceanica habitat.
Thanks to the organizers, an exposition stand was made available with informative material from LIFE SEPOSSO during the whole duration of the Congress.