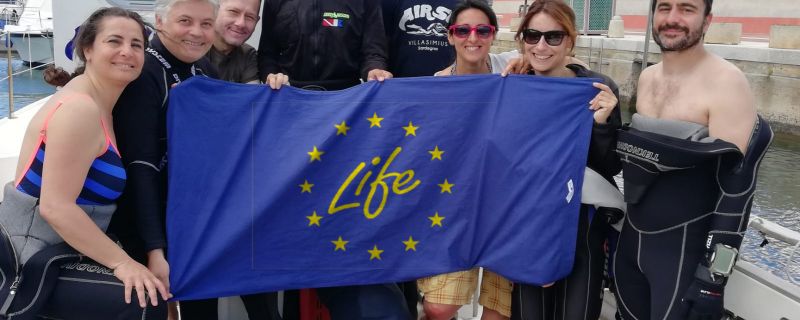 On May 24th-25th 2018 in Villasimius was held the final meeting of the LIFE RES MARIS project (LIFE13 NAT IT 000433 RES MARIS – www.resmaris.eu) aimed at presenting the results achieved in four years of activity.

The event offered the opportunity to those who have personally experienced the project activities (schools, tour operators, citizens) to know the good practices and actions carried out, or under construction. Other projects of national and international importance have also been presented.
As part of the conference's work, surveys were organized in the areas where took place the restoration intervention of habitats 2250 * "Coastal dunes with Juniperus spp." And 2270 * "Dunes with forests of Pinus pinea and / or Pinus pinaster". The second day was dedicated to a visit to the Capo Carbonara MPA and to the areas that hosted the interventions at sea.
In this context the coordinators of the LIFE SEPOSSO project presented an intervention entitled: "LIFE SEPOSSO – PLANNING, RESEARCH AND CONTROL: WE INVEST FOR A MANAGEMENT OF SUSTAINABLE PRACTICES OF POSIDONIA OCEANICA".
As part of the networking activities between SEPOSSO and RES MARIS, the experiences of habitat recovery at Posidonia oceanica were discussed. During the days of the meeting the diving technicians of ISPRA and ARPAT related to Life SEPOSSO carried out a monitoring of the Posidonia oceanica cuttings transplanted as part of RES MARIS actions. The restoration intervention was carried out by recovering P. oceanica cuttings removed from the prairie by natural causes and replanted in a degraded portion prairie by using geomats. The applicability and the success of the technique used in the context of RES MARIS will be evaluated within the SEPOSSO activities, and therefore the site of transplantation of the MPA of ​​Capo Carbonara will be included in the case studies of our project Life.
At the same time, the presence at the conference of various stakeholders sensitive to Posidonia oceanica transplantation issues gave us the opportunity to start the activities of the B1 Life SEPOSSO action which provides for the administration of interviews to the stakeholders for the management of the governance phase.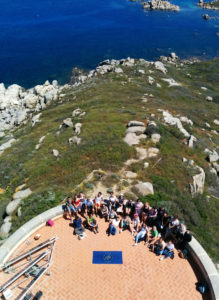 The crew under the lighthouse at Isola dei Cavoli