Action B.1.2 From governance to efficacy of EIA process
As part of the SEPOSSO project, action B1.2 envisaged the realization of a survey of projects subjected to EIA, which contained prescriptions regarding interventions on the priority habitat 1120 * (sensu Directive 92/43 / EEC "Habitat") Posidonia oceanica meadows and any transplant operations of the same.
The survey was carried out using the database called I.De.A. (ISPRA Environmental Decrees), created by ISPRA for the Environmental Assessments Department of the MATTM. The I.De.A. contains all the prescriptions (or environmental conditions) included in the EIA decrees issued by the MATTM, the MIBACT, the Regions concerned and other local Bodies, from June 1989 to date being updated. In addition, the database contains, for example, information relating to administrative aspects, type and location of the work, proponent, prescribing bodies or involved in verifying compliance with the prescription.
The analysis conducted on the requirements contained in the I.DE.A. which contained a reference to Posidonia oceanica, made it possible to identify 107 prescriptions from the 32 national EIA decrees.
From the recognition of the 32 EIA decrees, for the SEPOSSO project it was chosen to primarily examine those projects in which P. oceanica transplant operations have been carried out on a large spatial scale in compliance with a specific requirement.
In detail, the three case studies are:
Variant to the Port Regulatory Plan of Civitavecchia – Energy Dock – Grandi Masse – EIA DECREE 6923/2002 and subsequent projects involving the Port of Civitavecchia area
Submarine gas pipeline project in the stretch of sea between Lake Fusaro in the Municipality of Bacoli (NA) and Punta San Pietro in the Municipality of Ischia (NA) – EIA DECREE 10/2008
Port Regulatory Plan of the Port of Piombino – EIA DECREE 478/2012
The report "Basic information, legislative context and description of case studies" contains the detailed analysis of the authorization process and of the prescriptions that in the three main case studies led to the implementation of Posidonia oceanica transplants as an EIA compensation measure. In addition, this report also analyzed the procedural pathway of the transplant carried out in locality Priolo-Gargallo (Augusta Bay, Sicily) to restore the damaged Posidonia meadow, which disappeared after the construction of the Petrochemical Center in the late '50.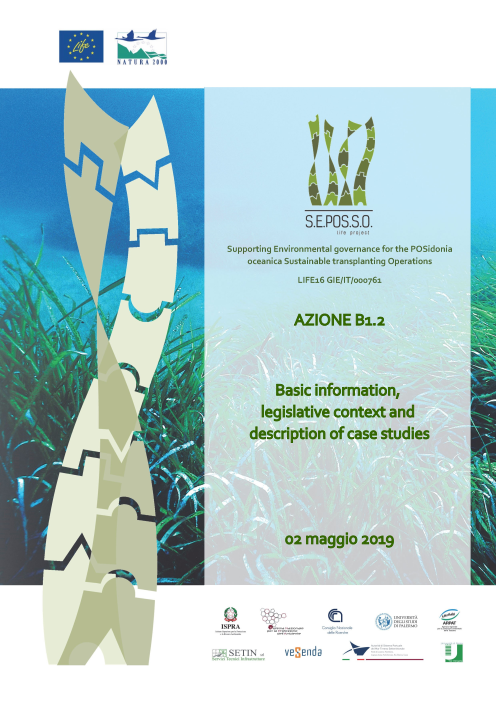 DELIVERABLE Action B.1.2 – Basic information legislative context and description of case studies