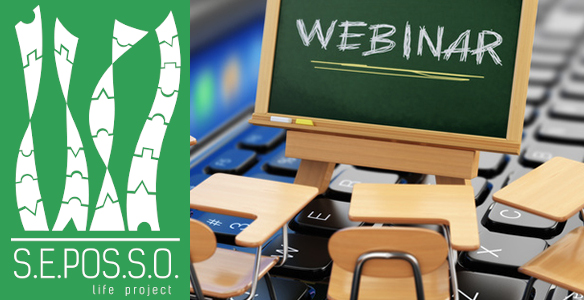 On 22, 23 and 24 March 2021, were held the training courses for Stakeholders envisaged by action B.4 "Transferability and replicability of SEPOSSO results and solutions" of the LIFE SEPOSSO Project .
The topic of the courses was the management of Posidonia oceanica meadows in Environmental Impact Assessments and the related tools, created during the SEPOSSO Life Project. These products, such as technical manuals, guidelines and the Posidonia Web Platform (PWP) are operational, methodological and regulatory support tools, oriented to the different types of Stakeholders involved in the Governance of the P. oceanica meadows.
The courses were programmed as follows:
March 22: "LLGG and PWP platform as tools for managing Posidonia oceanica meadows in environmental assessments"
March 23: "The transplant of Posidonia oceanica: planning, techniques and monitoring"
March 24 morning: "The management of Posidonia oceanica meadows: natural capital and ecosystem services"
March 24 afternoon: "Posidonia web platform (PWP) a low coding platform"
The 4 courses were held in synchronous webinar mode on the ISPRA platform.
Subsequently, a fifth course in asynchronous e-learning mode will be delivered within April 2021.
The aim was to train, during the first 4 webinar courses, a target of selected Stakeholders (among ARPA, Regions, Research Bodies, and other interested parties), counting about 40 webinar participants.
The forthcoming e-learning course will propose the revised contents of the 4 previous courses to a wider audience.
The complete course program is available here: Programma_webinar_22-23-24_marzo-2021-SEPOSSO
Some moments of the presentations during the webinar
Guidelines and Manuals presented during the courses