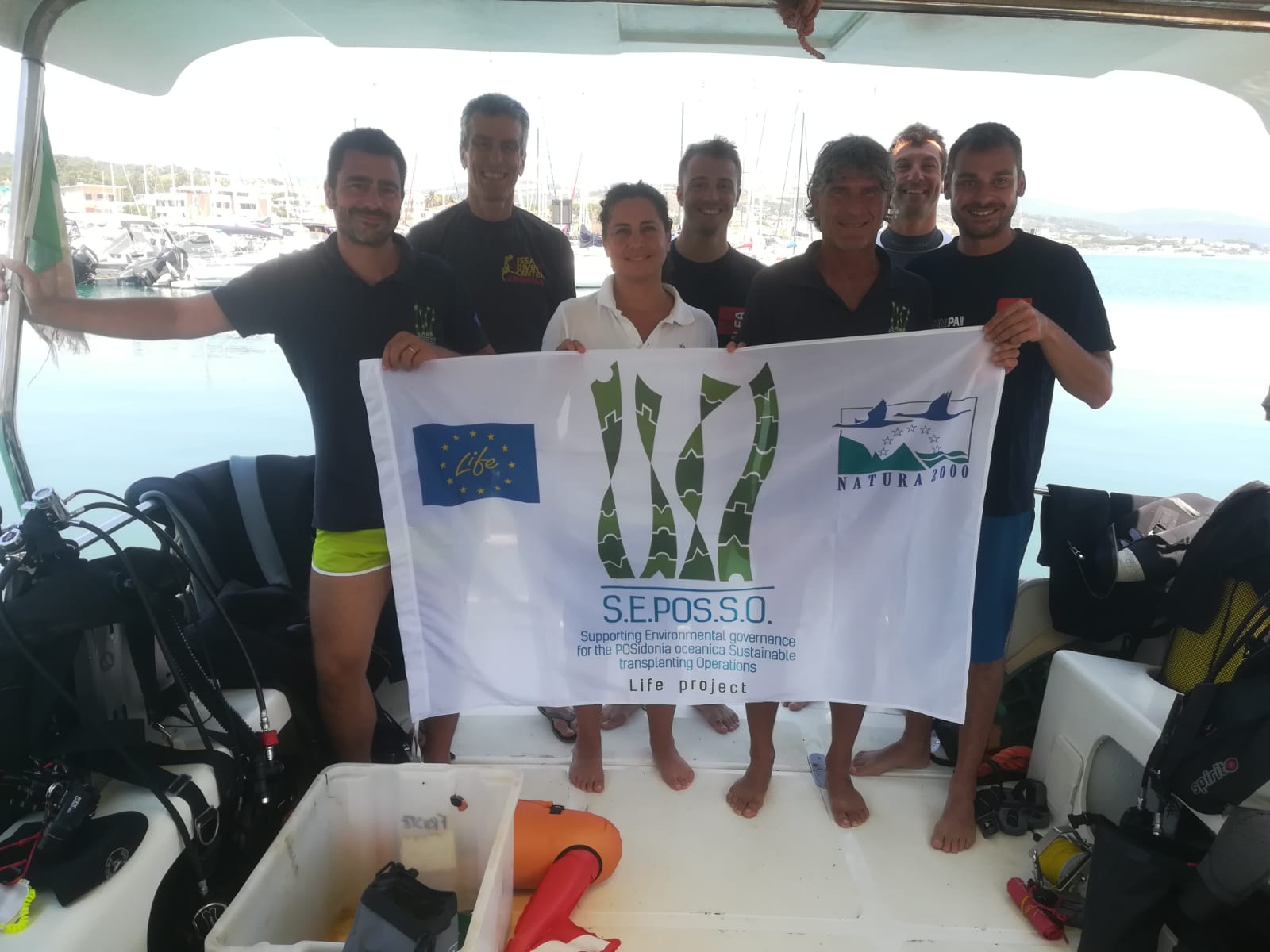 As part of the events planned for the monitoring of existing transplants of Posidonia oceanica, between July 22nd and 26th 2019 a series of technical-scientific dives were carried out on the study site Civitavecchiea and S. Marinella (Action B.2) which involved ISPRA, ARPA Toscana (ARPAT), Rome University "Tor Vergata", University of Palermo (DISTeM) and the Port System Authority of the Northern Tyrrhenian Sea (ASPMTS). The joint monitoring action between the different operators has allowed the sharing of experiences and the application of new techniques.
During the dives the operators were able to verify the conditions of the transplant occurred in 2004 in Santa Marinella, the first and most extensive Posidonia oceanica transplant in the Mediterranean. Originally, 300 thousand P. oceanica cuttings were installed on concrete frames in a sea area of ​​approximately 10,000 square meters between the towns of Santa Marinella and Santa Severa. In the 2019 monitoring, in addition to collecting a series of data relating to the survival of the transplanted cuttings and their state of establishment and development, further parameters were detected with respect to those considered in the 2018 campaign, in order to acquire complementary data, useful for the characterization of the areas under investigation, The data collected, thanks also to the support of video and photographic recordings, will be analyzed and compared with the previous data of the monitoring already carried out within the Life SEPOSSO during 2018 (Prospecting and surveys on the S.Marinella transplant) and with those previously conducted in compliance with the provisions of the VIA decrees.
The results of these activities will be fundamental to increase the knowledge base that will lead to the implementation of good practices to be used in the transplant management platform (PTWP), the realization of which is one of the central objectives of the Life SEPOSSO project.