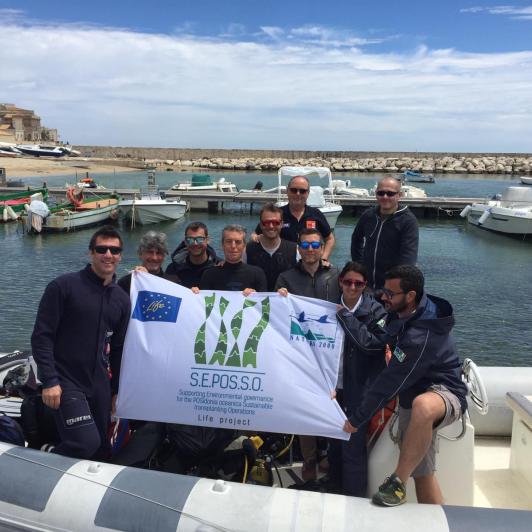 As part of the events scheduled in Palermo, Augusta (SR) and Syracuse between 20 and 24 May 2019, a series of technical-scientific dives were carried out on the Priolo Gargallo study site (Action B.2) which had the simultaneous involvement of ARPA Toscana divers (ARPAT), University of Rome "Tor Vergata", University of Palermo (DISTeM), and of the Port of the Northern Tyrrhenian Sea Authority (ASPMTS) with the coordination of ISPRA.
A first series of dives was dedicated to verify the current conditions of a Posidonia oceanica transplant in the Mondello area (PA) carried out in 2015 in compliance with the national E.I.A. The transplant, performed at 7 m depth on an area of ​​approx. 50 sq.m., was prescribed as a compensation measure for damage caused in the Ragusa area during the construction of the Italy-Malta power line, part of the EE. of Ragusa and the limit of territorial waters – Decree E.I.A 739 of 20/12/2012. The transplantation technique used is that of bioplastic hold structure settled on dead 'matte'
The Augusta dives were dedicated to verify the conditions of Posidonia oceanica transplantation, carried out in Priolo Gargallo in the "Seno di Priolo" area, one of the 4 main study sites of the SEPOSSO project. The transplant, carried out in June and November 2014, as a measure to restore the preexisting prairie, took place as part of the Research and Training Project "Advanced eco-sustainable technologies aimed at the reclamation and restoration of degraded coastal marine areas (TETIDE)". The reforestation intervention was carried out by the Department of Earth and Sea Sciences (DiSTeM) of the Palermo University and involved a total area of ​​2500 square meters in which 2000 bioplastic supports were implanted. The dives carried out in the last few days in the context of the Life SEPOSSO must be  addeded to the 9 monitoring campaigns of the TETIDE Project, developed in 2 years between 2014 and 2016 with a quarterly frequency.
The monitoring dives conducted between 21 and 23 May were added to those already carried out within the Life SEPOSSO during 2018 (Prospecting and surveys on the Priolo Gargallo transplant). A further monitoring was also performed in the Gulf of Syracuse (Porto Grande), in the Castelluccio area, in June 2016 at a depth of 7 m on an area of ​​approx. 350 square meters, was prescribed as a compensation measure for damage caused on the prairie of Posidonia oceanica during the construction of a submerged breakwater. Also in this case, the transplantation technique used is of bioplastic hold structure settled on dead 'matte'. The results of these activities will be fundamental to increase the knowledge base that will lead to the implementation of good practices to be used in the transplant management platform (PTWP), the realization of which is one of the central objectives of the Life SEPOSSO project.