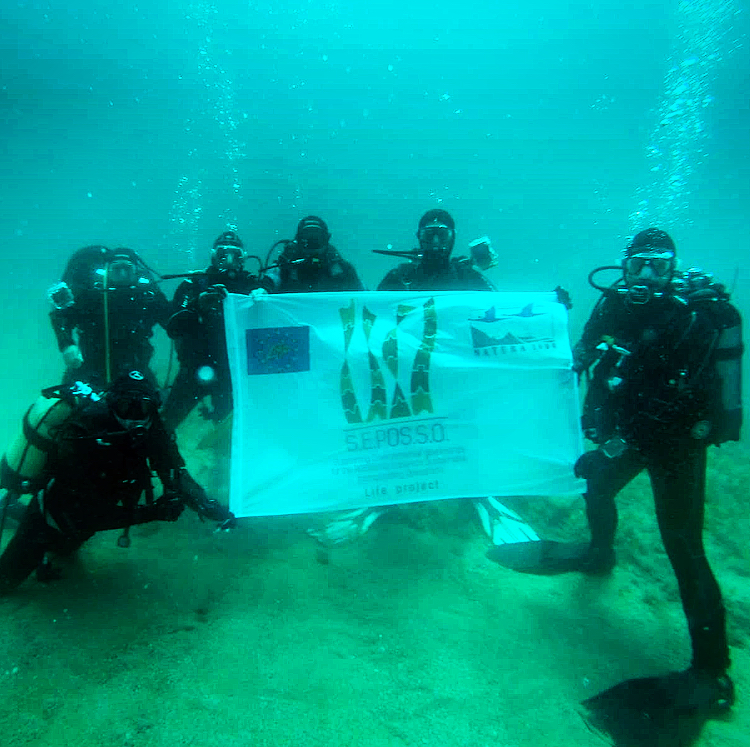 As part of the events planned in Augusta from 9th to July 13th July, a series of technical-scientific dives were carried out on the Priolo Gargallo study site (Action B.2) with the simultaneous involvement of the ISPRA divers, ARPA Tuscany (ARPAT), University of Rome "Tor Vergata", University of Palermo (DISTeM), and Authority of Harbor System of the Northern Tyrrhenian Sea (ASPMTS). The joint monitoring action  allowed the sharing of methodological experiences and techniques among the partners
During the dives, operators were able to assess the conditions of Posidonia oceanica transplantation, carried out at Priolo Gargallo in the locality "Seno di Priolo" in June and November 2014, as a measure of restoration of the pre-existing prairie. The impact on the prairie of P. oceanica in the area of ​​the Site of National Importance (SIN), is linked to the damage caused by decades of industrial discharges deriving from the activities of the chemical industrial plant of Priolo-Melilli-Augusta.
The monitoring dives carired out as part of the Life SEPOSSO add up to the 9 monitoring campaigns of the TETIDE Project, carried out every three months in two years between 2014 and 2016.
From the preliminary observations, we found out significant damages to the transplantation mainly due to recreational and professional fishing activities. The surviving cuttings, however, appear vital, well anchored to the substrate and capable of generating new shoots. Considering the natural slow growth of P. oceanica, as well as the characteristics of the site, characterized by severely degraded matte colonized by algae, further data are needed to appreciate the real outcome of the transplantation.
The reforestation intervention was conducted by the Department of Earth and Sea Sciences (DiSTeM) of the University of Palermo and involved a total area of ​​2500 square meters in which 2000 bioplastic supports were implanted.
The results of these activities will be fundamental to increase the knowledge that will lead to the developing of of good practices to be used in the transplant management platform (PTWP), which is one of the central objectives of the Life SEPOSSO project.
In addition to the pre-eminently technical-scientific activities, on 13 July, an immersion open to stakeholders and the public was carried out on the transplantation site.