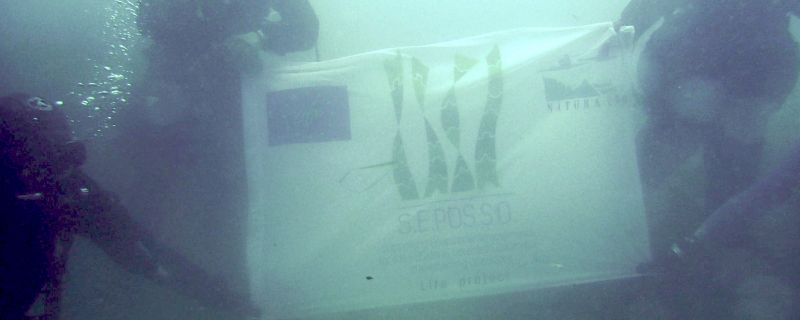 Control and data collection dives begin on transplanted grasslands at our study sites for the Life SEPOSSO project (Action B.2).
As part of the events scheduled at Civitavecchia between June 25th and 30th, a series of technical-scientific dives were carried out with the simultaneous involvement of the ISPRA divers, ARPA Tuscany (ARPAT), the University of Rome "Tor Vergata", University of Palermo (DISTeM), and the Authority of Harbor System of the Northern Tyrrhenian Sea (ASPMTS). The joint monitoring action among the different operators allowed the sharing of experiences and methological techniques.
During the dives, the operators were able to verify the conditions of the transplantation carried out in 2004 at Santa Marinella, the first and largest transplant of Posidonia oceanica in the Mediterranean. Originally 300 thousand cuttings of Posidonia were installed on a sea surface of about 10,000 square meters between Santa Marinella and Santa Severa. Technical experts have been able to collect a series of data on the survival of transplanted cuttings and their state of development. The data collected, also thanks to the support of video and photographic recordings, will be analyzed and compared with previous data of the monitoring already carried out in compliance with the provisions of the EIA decrees.
From the preliminary observations, the outcome of the transplant appears to be overall positive. In most of the areas investigated, after 13 years, stable spots of Posidonia formed by thousands of leaf bundles, became important recolonization sources.
The results of these activities will be fundamental to increase the knowledge base that will lead to the realization of good practices to be used in the transplant management platform (PTWP) whose realization is one of the central objectives of the Life SEPOSSO project.
In addition to the technical-scientific activities, on June 29th there was also a dive open to the stakeholders and the public in the transplantation site, where people from the "La Sapienza" University (Rome) and the University of Tuscia (Viterbo) took part with great interest.